Supporting Eyelid Health & Hygiene
Blepharitis is a common condition that causes inflammation of the eyelids due to a blockage of the meibomian glands. This uncomfortable condition can develop from various factors but can be prevented with proper eyelid hygiene.
To keep your eyelids healthy, wash your upper and lower lash lines every day with warm water and diluted baby shampoo or eyelid cleaners.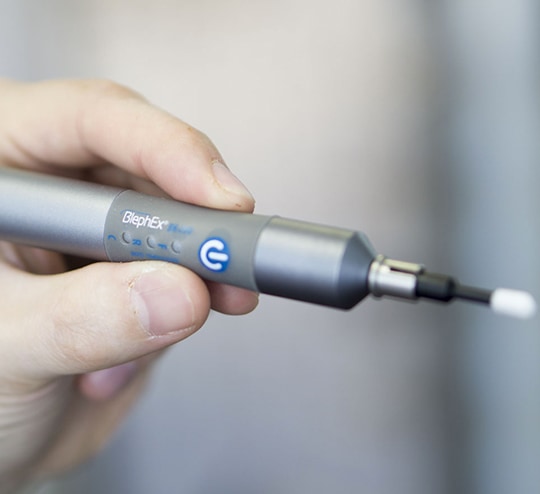 Blepharitis Symptoms & Treatment
Although blepharitis can't damage your eyesight, it should be treated to avoid irritation. The condition can be treated in various ways and can be identified by multiple symptoms.
Common blepharitis symptoms include:
Stinging or burning on the eyes
Crusty buildup or debris in the eyelash
Watery eyes
Irritation
Dry eyes
Foreign body sensation
Itchy eyelids
Redness
LipiFlow
LipiFlow can also be used to treat blepharitis as this condition is related to meibomian gland dysfunction. LipiFlow helps to break up any blockages in the glands using gentle heat and pressure.
FAQs About BlephEx
How long does BlephEx treatment take?
Typically, the procedure lasts between 6 to 8 minutes. However, depending on the severity of blepharitis, it may take longer to get optimal results.
What can I expect from BlephEx?
To keep you comfortable, we normally start by putting numbing drops on each eye. Then, we'll gently apply the disposable microsponge along your lash line, removing any debris. After it's removed, we'll wash your eyelids.
After the treatment, you're free to go about your day as usual.
How long does BlephEx last?
In most cases, BlephEx treatments take place every 3 to 6 months. However, if patients maintain a healthy hygiene regime, the time between treatments can be extended.
OUR LOCATIONS
See & Be Seen
Eyecare downtown

#136 – 171 East Liberty Street

Toronto

,

ON

M6K 3P6
Hours of Operation
Monday

:

10:00 AM

–

5:00 PM

Tuesday

:

10:00 AM

–

5:00 PM

Wednesday

:

10:00 AM

–

5:00 PM

Thursday

:

11:00 AM

–

6:30 PM

Friday

:

10:00 AM

–

5:00 PM

Saturday

:

10:00 AM

–

5:00 PM

Sunday

:

Closed
See & Be Seen
Eyecare Midtown
(yonge & eglinton)
2611 Yonge Street

Toronto

,

ON

M4P 2J1
Hours of Operation
Monday

:

Closed

Tuesday

:

10:00 AM

–

5:00 PM

Wednesday

:

10:00 AM

–

5:00 PM

Thursday

:

10:00 AM

–

5:00 PM

Friday

:

10:00 AM

–

5:00 PM

Saturday

:

10:00 AM

–

5:00 PM

Sunday

:

Closed
Check us out on Instagram

WE DIRECT BILL