Supporting Diabetes in Eye Care
Diabetes affects the entire body, including the eyes. We want to ensure that no diabetes-related eye diseases go unnoticed, so yearly eye exams are recommended. Your doctor may recommend more frequent exams depending on your eye and health needs.
Our eye exams can also detect diabetes. During a comprehensive eye exam, an optometrist has a direct view of your blood vessels and can detect signs of diabetes.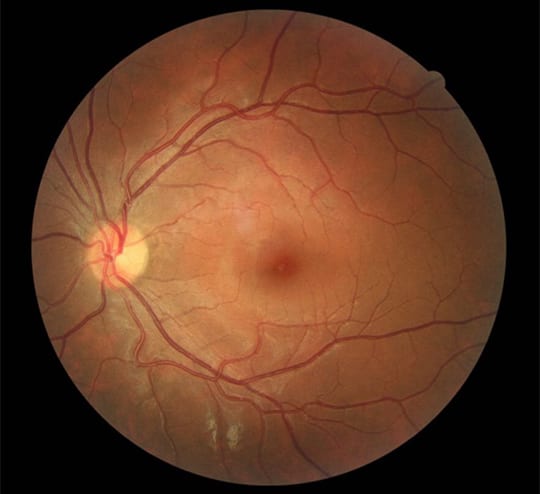 Diagnosing Diabetic Eye Disease
Our patients with diabetes will receive a special eye exam that focuses on eye disease related to diabetes.
At See & Be Seen Eyecare, we use advanced diagnostic technology to help us detect eye diseases before they can cause damage or vision loss. Through digital imaging, we can detect even the slightest change in your retinal health and recommend treatment right away.
Common Diabetic Eye Disease
Diabetic Retinopathy
Diabetic retinopathy is caused by the effects of high blood sugar on the blood vessels in the retina. At the start, diabetic retinopathy might show few or no symptoms. However, if these blood vessels begin to leak into the retina, blurred vision or even blindness can occur.
Diabetic Macular Edema
Diabetic macular edema can be caused if diabetic retinopathy is left untreated. With diabetic macular edema, the fluid from the blood vessels can also start to leak into the macula (the central part of the retina), which allows you to read and recognize facial features.
Without treatment, diabetic macular edema can lead to blindness.
OUR LOCATIONS
See & Be Seen
Eyecare downtown

#136 – 171 East Liberty Street

Toronto

,

ON

M6K 3P6
Hours of Operation
Monday

:

10:00 AM

–

5:00 PM

Tuesday

:

10:00 AM

–

5:00 PM

Wednesday

:

10:00 AM

–

5:00 PM

Thursday

:

11:00 AM

–

6:30 PM

Friday

:

10:00 AM

–

5:00 PM

Saturday

:

10:00 AM

–

5:00 PM

Sunday

:

Closed
See & Be Seen
Eyecare Midtown
(yonge & eglinton)
2611 Yonge Street

Toronto

,

ON

M4P 2J1
Hours of Operation
Monday

:

Closed

Tuesday

:

10:00 AM

–

5:00 PM

Wednesday

:

10:00 AM

–

5:00 PM

Thursday

:

10:00 AM

–

5:00 PM

Friday

:

10:00 AM

–

5:00 PM

Saturday

:

10:00 AM

–

5:00 PM

Sunday

:

Closed
Check us out on Instagram

WE DIRECT BILL