LipiFlow: A Revolutionary Dry Eye Treatment
LipiFlow® is a relatively new in-office dry eye treatment. The treatment involves applying gentle heat and pressure to the eyelids, helping them create better quality tears naturally. We recommend LipiFlow treatment once every 9 to 12 months to reduce dry eye symptoms significantly.
LipiFlow is an excellent solution for patients looking to escape the day-to-day hassle of dealing with dry eyes.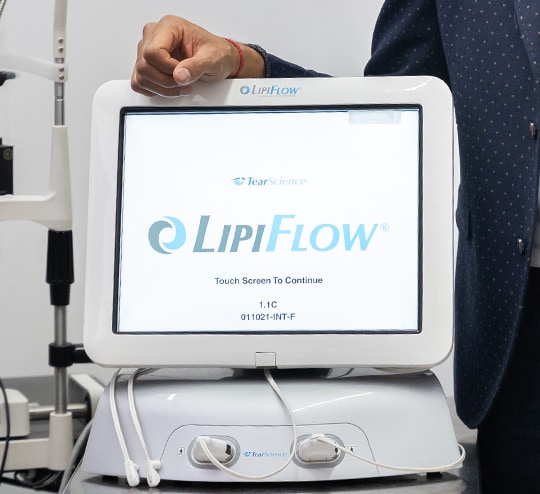 How Does LipiFlow Work?
At See & Be Seen Eyecare, we strongly believe in LipiFlow. In fact, Dr. Patel was one of the first eye doctors in North America to integrate LipiFlow into his practice. Since then, Dr. Patel has treated thousands of patients across North America with LipiFlow.
FAQs About LipiFlow
How long does treatment take?
LipiFlow is performed in-office and usually takes around 12 to 15 minutes.
What can I expect?
The LipiFlow activator will be placed under your lower and upper eyelids. The activator leaves the surface of your eye completely untouched. Once established, you can lay back and relax for the rest of the treatment.
Are there side effects?
Although side effects are rare and minimal, there can occasionally be burning, stinging, redness, or inflammation. Before your treatment, we will go over all the details with you.
Is LipiFlow painful?
Most patients who took part in a clinical study ranked their discomfort at a 1.4 on a scale from 1 to 10. That translates to being aware of the gentle heat and pressure without feeling uncomfortable.
OUR LOCATIONS
See & Be Seen
Eyecare downtown

#136 – 171 East Liberty Street

Toronto

,

ON

M6K 3P6
Hours of Operation
Monday

:

10:00 AM

–

5:00 PM

Tuesday

:

10:00 AM

–

5:00 PM

Wednesday

:

10:00 AM

–

5:00 PM

Thursday

:

11:00 AM

–

6:30 PM

Friday

:

10:00 AM

–

5:00 PM

Saturday

:

10:00 AM

–

5:00 PM

Sunday

:

Closed
See & Be Seen
Eyecare Midtown
(yonge & eglinton)
2611 Yonge Street

Toronto

,

ON

M4P 2J1
Hours of Operation
Monday

:

Closed

Tuesday

:

10:00 AM

–

5:00 PM

Wednesday

:

10:00 AM

–

5:00 PM

Thursday

:

10:00 AM

–

5:00 PM

Friday

:

10:00 AM

–

5:00 PM

Saturday

:

10:00 AM

–

5:00 PM

Sunday

:

Closed
Check us out on Instagram

WE DIRECT BILL