Find Comfort in Contacts
Contact lenses are an opportunity to go through your day with clear vision without having to wear glasses. Unfortunately, many people don't think they can wear contact lenses, either because they find them uncomfortable or because they've been told their eyes are too hard to fit.
However, contact lenses may still be an option for you. It's all a matter of finding the right type of lenses. At See & Be Seen Eyecare, we're excited to offer specialty lenses to provide our patients with a more comfortable fit.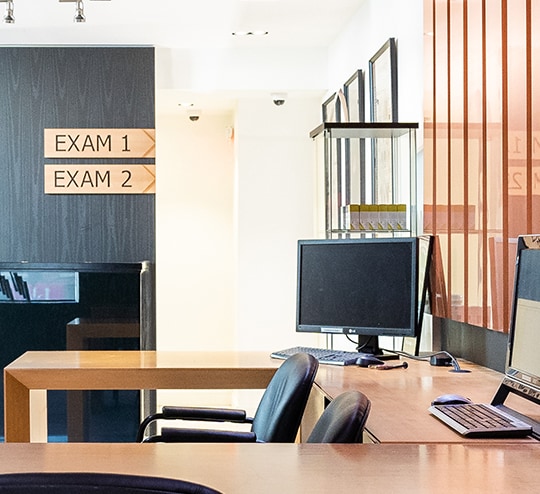 Ortho-K & Scleral Lenses
Ortho-K lenses are typically used for myopia control in children. The contact lenses are worn overnight and slowly correct the vision issue. During the day, kids remove the ortho-k lenses and enjoy clear vision without wearing glasses or contacts.
Scleral Lenses differ from regular contacts in how they cover the eye. A regular lens will cover the surface of the cornea, whereas a scleral lens extends past the edge of the cornea. This extra coverage helps with comfort and can help control certain eye conditions.
Benefits to Scleral Lenses
Alleviate Dry Eye Symptoms
If you've worn regular contacts in the past, you may have experienced dry eye symptoms while wearing your lenses. Scleral lenses are a great solution to this problem.
Scleral lenses don't touch the surface of the cornea directly. This allows moisture to stay on the eye, keeping it hydrated throughout the day.
Correct Astigmatism
Just like myopia, astigmatism is a form of refractive error. This error impacts a patient's vision and cannot always be controlled with a regular contact lens because they rotate.
Scleral lenses are great for astigmatism because they're stable and won't rotate.
Improve Keratoconus
If a cornea begins to thin and bulge outwards in the centre, it's called keratoconus. Because scleral lenses don't touch the cornea, they're perfect for correcting corneal abnormalities like keratoconus. The curve of the lens acts like a typical cornea would, focusing the light to a single point on the retina.
OUR LOCATIONS
See & Be Seen
Eyecare downtown

#136 – 171 East Liberty Street

Toronto

,

ON

M6K 3P6
Hours of Operation
Monday

:

10:00 AM

–

5:00 PM

Tuesday

:

10:00 AM

–

5:00 PM

Wednesday

:

10:00 AM

–

5:00 PM

Thursday

:

10:00 AM

–

5:00 PM

Friday

:

10:00 AM

–

5:00 PM

Saturday

:

10:00 AM

–

5:00 PM

Sunday

:

Closed
See & Be Seen
Eyecare Midtown
(yonge & eglinton)
2611 Yonge Street

Toronto

,

ON

M4P 2J1
Hours of Operation
Monday

:

Closed

Tuesday

:

10:00 AM

–

5:00 PM

Wednesday

:

10:00 AM

–

5:00 PM

Thursday

:

10:00 AM

–

5:00 PM

Friday

:

10:00 AM

–

5:00 PM

Saturday

:

10:00 AM

–

5:00 PM

Sunday

:

Closed

WE DO DIRECT BILLING