Our Dry Eye Products
We understand that not all our patients always have time to visit our practice. Luckily, if you're suffering from dry eye, you can treat it at home. To soothe your dry eye symptoms at home, visit our Liberty Village or Midtown location or check out all of our products below.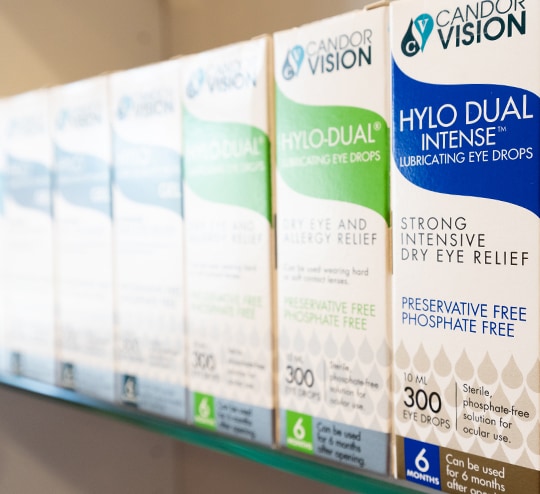 Eye Drops & Sprays
Hylo
Hylo Lubricating Drops are preservative and phosphate-free artificial tears for dry eye relief. Because it mimics the function of natural tears, Hylo offers immediate comfort and protects your eyes from dryness and irritation.
Hylo is made from sodium salt of hyaluronic acid, which occurs naturally in your body, so the drops don't sting your eyes. Hylo is suitable for everyone, including pregnant and nursing women. You can use the drops with or without contact lenses.
Hylo Dual
Hylo Dual is a preservative and phosphate-free artificial tear that's specifically designed for dry eye symptoms due to allergies. Hylo Dual protects cell membranes from contact with allergens to reduce inflammatory responses. You can use the drops with or without contact lenses.
Calmo
Calmo is designed to relieve dry eye symptoms by building a healthy tear film that keeps tears from evaporating too quickly. You apply Calmo by spraying it on your closed eyes. The Calmo Eye Spray mixes with oils your eyes produce. Once you open your eyes, the new mix of oils is spread onto the surface of your tears to keep them from evaporating—dry eye relief for patients who have difficulty instilling eye drops.
Thealoz
Thealoz is an eye drop that hydrates and protects your eyes with trehalose, a natural substance found in plants and animals which survive arid conditions. Thealoz is also a preservative and phosphate-free solution, so it's totally safe to use with or without contact lenses.
Thealoz Duo
Thealoz Duo is a drop that uses a natural bioprotectant called trehalose and hyaluronic acid which occurs naturally in your body. It hydrates, protects, and can help regenerate the surface of the eye. Thealoz Duo is preservative and phosphate-free and is safe to use with or without contact lenses.
Hyabak
Hyabak drops provide long-lasting relief from uncomfortable dry eye symptoms. The active ingredient, sodium hyaluronate, acts like a sponge to retain water, which it slowly releases when you blink. Hyabak is preservative and phosphate-free and is safe to use with or without contact lenses.
Gels & Ointments
Hylo Gel
Hylo Gel is a preservative-free gel lubricant designed for patients with particularly severe and persistent dry eye. Hylo gel creates a strong and long-lasting lubricating film on the surface of the eye that can't be blinked off and won't blur your vision. Hylo Gel is safe to use with or without contact lenses.
Ocunox
Ocunox is a preservative-free ointment that lubricates your eyes and helps your eyelids slide easily over the surface of your eye. This level of lubrication keeps the eyelids smooth and prevents them from crusting. Ocunox is meant to be used overnight to prevent morning dryness. Ocunox ointment is safe for everyone, including pregnant and breastfeeding women.
Cleaners
Blephagel
Blephagel is a gentle daily cleanser for eyelid and eyelash hygiene. Blephagel removes mucus, debris, and makeup while hydrating your surrounding skin. It's great at controlling blepharitis and reducing inflammation and redness around eyelids. Blephagel is preservative-free, hypoallergenic, and gentle enough for those as young as 3 months old.
Blephaclean Wipes
Blephaclean wipes are convenient, individually packaged wipes for gently cleansing the lids and lashes. Blephaclean wipes are fragrance, detergent and preservative-free. Blephaclean's active ingredients are naturally occurring, and PH balanced, helping to reduce inflammation and regulate gland secretions.
Lid N' Lash
Lid N' Lash cleansing gel and wipes are used for eyelid and lash hygiene. Both the gel and wipes safely remove makeup and eye debris without stinging or burning, even on sensitive skin. Lid N' Lash products are paraben-free and don't need to be rinsed away after use. These gels and wipes disinfect, hydrate, and soothe with hyaluronic acid.
Cliradex Towelettes
Cliradex Towelettes are the only available made with 4-Terpineol, a major ingredient of tea tree oil. Cliradex is a natural, preservative-free way to cleanse the eyelashes, eyelids, and face to help relieve symptoms associated with Demodex, blepharitis, meibomian gland dysfunction (MGD), rosacea, dry eye, chalazion, and other eyelid conditions. Because it contains 4-Terpineol, Cliradex is particularly effective against Demodex.
Daily Use Products
PRN Omega Fish Oil
PRN Omega Fish Oil is a supplement designed to offer the ideal ratio of EPA and DHA for dry eye therapy. The patented PRN process removes any potential contaminants like known carcinogens, lead, mercury, and other impurities. Taking the recommended dose of PRN Omega-3s each day for a week is equivalent to eating 37 cans of tuna! Many store-bought omega-3s are synthetic or unpurified, which is difficult to absorb and leaves a fishy odour/aftertaste.
Bruder Mask
Bruder Mask is a warm compress mask that uses moist heat treatment relieving discomfort from dry eyes, contact lenses and digital devices. The compress helps stabilize the tear film, improves oil gland function and slows tear evaporation. Naturally anti-bacterial, washable and reusable. Bruder masks absorb water molecules from the air and release them as clean moist heat when microwaved.
OUR LOCATIONS
See & Be Seen
Eyecare downtown

#136 – 171 East Liberty Street

Toronto

,

ON

M6K 3P6
Hours of Operation
Monday

:

10:00 AM

–

5:00 PM

Tuesday

:

10:00 AM

–

5:00 PM

Wednesday

:

10:00 AM

–

5:00 PM

Thursday

:

11:00 AM

–

6:30 PM

Friday

:

10:00 AM

–

5:00 PM

Saturday

:

10:00 AM

–

5:00 PM

Sunday

:

Closed
See & Be Seen
Eyecare Midtown
(yonge & eglinton)
2611 Yonge Street

Toronto

,

ON

M4P 2J1
Hours of Operation
Monday

:

Closed

Tuesday

:

10:00 AM

–

5:00 PM

Wednesday

:

10:00 AM

–

5:00 PM

Thursday

:

10:00 AM

–

5:00 PM

Friday

:

10:00 AM

–

5:00 PM

Saturday

:

10:00 AM

–

5:00 PM

Sunday

:

Closed
Check us out on Instagram

WE DIRECT BILL