Controlling Myopia Early
Myopia, also known as nearsightedness, is a refractive error that causes far objects to appear blurry. The condition often develops during childhood and can worsen until vision stabilizes around age 20.
Myopia is a common vision problem affecting nearly 30% of Canadians. Although the effects of myopia can be corrected with glasses or contact lenses, there are larger eye health risks with cases of high myopia.
To help control myopia early, we can diagnose it during a children's eye exam and recommend one of our control options. If your child is struggling with seeing objects at a distance, bring them in for an eye exam and myopia test.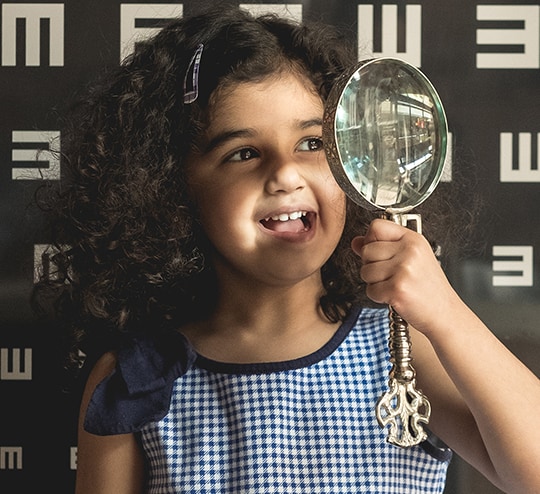 How Does Myopia Control Work?
Although myopia cannot be cured entirely, we can use control methods to limit its effects. Controlling myopia early on can also help minimize refractive issues later in life.
To effectively control myopia, small changes need to be made to the eye's structure. In addition to these small changes, myopia control will also help reduce the strain on your child's eyes.
At See & Be Seen Eyecare, we use 2 main methods to control myopia.
How We Control Myopia
Multifocal Lenses
Multifocal contact lenses are designed to help correct myopia and allow the eyes to see at all distances without causing extra strain. It's common for normal glasses to be given to children to control myopia. However, standard glasses can make it harder for their eyes to focus on what's right in front of them, causing stress on the eye.
Ortho-K
Ortho-K lenses differ from regular contact lenses as they're worn overnight instead of during the day. As your child sleeps, the lens works to correct myopia by gently reshaping the cornea. Then, when your child wakes up, they take out the lenses and enjoy seeing clearly throughout the day without glasses.
OUR LOCATIONS
See & Be Seen
Eyecare downtown

#136 – 171 East Liberty Street

Toronto

,

ON

M6K 3P6
Hours of Operation
Monday

:

10:00 AM

–

5:00 PM

Tuesday

:

10:00 AM

–

5:00 PM

Wednesday

:

10:00 AM

–

5:00 PM

Thursday

:

11:00 AM

–

6:30 PM

Friday

:

10:00 AM

–

5:00 PM

Saturday

:

10:00 AM

–

5:00 PM

Sunday

:

Closed
See & Be Seen
Eyecare Midtown
(yonge & eglinton)
2611 Yonge Street

Toronto

,

ON

M4P 2J1
Hours of Operation
Monday

:

Closed

Tuesday

:

10:00 AM

–

5:00 PM

Wednesday

:

10:00 AM

–

5:00 PM

Thursday

:

10:00 AM

–

5:00 PM

Friday

:

10:00 AM

–

5:00 PM

Saturday

:

10:00 AM

–

5:00 PM

Sunday

:

Closed
Check us out on Instagram

WE DIRECT BILL