Feeling & Looking Your Best
Throughout our lives, we put our bodies through a lot. Whether it's from aging or a life full of experiences, our eyes and the skin around them have the potential to change in appearance.
At See & Be Seen Eyecare, we always strive to have you looking and feeling your best. We're happy to offer eye aesthetics to our patients.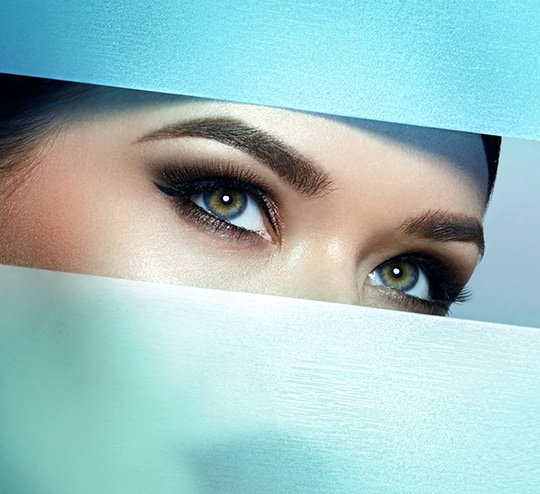 Why Eye Aesthetics?
At See & Be Seen, we can help you look your best with more than just stylish glasses and sunglasses. Eye aesthetics are used to help bring a refreshed look to the area around your eyes.
Some common reasons patients are interested in eye aesthetics are:
Bags under their eyes
Dark circles
Wrinkles
Excess fat in their eyelids
Tired eyes and droopy eyelids
Loss of facial volume
Limited facial contours and structure
Reduced skin quality
Aging
Genetic factors
Trauma
Repeated facial expressions
Lack of skincare
Paralysis
Treatment Options
DARWIN
Not only is the DARWIN workstation able to help treat symptoms of dry eye, it can perform aesthetic treatment options for you as well. This includes:
Intense Pulsed Light (IPL) can help to decrease dark circles, pigment spots, and scar tissue. IPL uses light to help rejuvenate the affected skin area. This in-office treatment can help to reduce inflammation significantly.
High Intensity Focused Ultrasound (HIFU) is a popular choice for skin tightening and lifting. HIFU uses multiple transducers to target different layers of the skin for increased effectiveness and treatment customization.
Radiofrequency (RF) Microneedling uses tiny needles and radiofrequency waves to stimulate the growth of healthy new skin. This treatment can benefit common skin issues such as scars and wrinkles.
Thermal Radiofrequency (RF) is an effective treatment to tighten and rejuvenate skin. Energy waves heat the deep layers of your skin to stimulate the production of collagen.
Botox
Botox injections are typically used to reduce facial wrinkles. These injections block certain chemical signals from nerves, helping certain muscles not to contract. Botox is relatively safe and often has only mild side effects.
Fillers
Fillers are used for bringing volume and reshaping certain areas of the face. The effects of the substance are temporary and need to be repeated frequently for consistent results. During the treatment, a local anesthetic is often used to keep patients comfortable when receiving the injection.
OUR LOCATIONS
See & Be Seen
Eyecare downtown

#136 – 171 East Liberty Street

Toronto

,

ON

M6K 3P6
Hours of Operation
Monday

:

10:00 AM

–

5:00 PM

Tuesday

:

10:00 AM

–

5:00 PM

Wednesday

:

10:00 AM

–

5:00 PM

Thursday

:

10:00 AM

–

5:00 PM

Friday

:

10:00 AM

–

5:00 PM

Saturday

:

10:00 AM

–

5:00 PM

Sunday

:

Closed
See & Be Seen
Eyecare Midtown
(yonge & eglinton)
2611 Yonge Street

Toronto

,

ON

M4P 2J1
Hours of Operation
Monday

:

Closed

Tuesday

:

10:00 AM

–

5:00 PM

Wednesday

:

10:00 AM

–

5:00 PM

Thursday

:

10:00 AM

–

5:00 PM

Friday

:

10:00 AM

–

5:00 PM

Saturday

:

10:00 AM

–

5:00 PM

Sunday

:

Closed

WE DO DIRECT BILLING