See & Be Seen Eyecare COVID-19 Policy
We want to stay ahead of the curve to make sure that we are doing our part to reduce the potential for spread. We have not had a COVID-19 case in our office, and we hope not to, but we think it's pertinent to communicate our policies around it.
If you are exhibiting cough, shortness of breath or fever, please let us know—we will reschedule your appointment for an appropriate time.
Please rest assured that we are diligent with ensuring that everything is cleaned with antibacterial wipes, including door handles, exam equipment, reception counter, pens, etc.
The best prevention measure is still hand-washing. Washing with soap and water for 20 seconds or more is the best defence and will not only kill the virus but will remove it from your hands.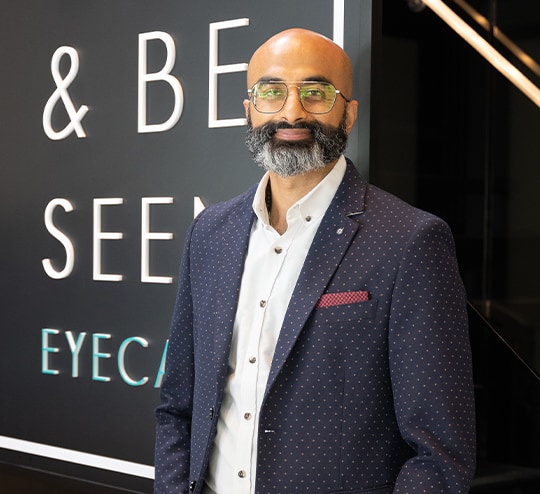 Safe Eye Care for Your Family
Our practice not only cares for your eye health but your general health as well. To keep you safe during your appointment, we follow the following COVID-19 policies:
Everyone's temperatures will be checked, including all staff before the workday and all patients before their appointments
Everyone entering the clinic is required to wear a mask (including doctors and all staff)
Registration paperwork should be filled out before your visit
Rigorous disinfection and sanitation protocol of equipment, eyewear, and common area
All eyewear selections will be done one-on-one with a stylist and disinfected on the spot by UV sanitation
Plexiglass barriers and breath shields on slit lamps
Patients may be required to wash or sanitize their hands multiple times throughout the visit
Limit of one person per stylist in the eyewear gallery
We are only accepting tap for payment
For patient convenience and safety, curbside pick-up and home delivery options are available
Our practice is dedicated to keeping your family safe during your visit. Hand sanitizer is located at all points of communication.
Read Our COVID-19 Blogs
Screen Time & Your Kids
Safely Wearing Contact Lenses During This Time
Managing Spring Allergies
Is all this screen time damaging my eyes? (Yes. But here's what to do)
OUR LOCATIONS
See & Be Seen
Eyecare downtown

#136 – 171 East Liberty Street

Toronto

,

ON

M6K 3P6
Hours of Operation
Monday

:

10:00 AM

–

5:00 PM

Tuesday

:

10:00 AM

–

5:00 PM

Wednesday

:

10:00 AM

–

5:00 PM

Thursday

:

11:00 AM

–

6:30 PM

Friday

:

10:00 AM

–

5:00 PM

Saturday

:

10:00 AM

–

5:00 PM

Sunday

:

Closed
See & Be Seen
Eyecare Midtown
(yonge & eglinton)
2611 Yonge Street

Toronto

,

ON

M4P 2J1
Hours of Operation
Monday

:

Closed

Tuesday

:

10:00 AM

–

5:00 PM

Wednesday

:

10:00 AM

–

5:00 PM

Thursday

:

10:00 AM

–

5:00 PM

Friday

:

10:00 AM

–

5:00 PM

Saturday

:

10:00 AM

–

5:00 PM

Sunday

:

Closed
Check us out on Instagram

WE DIRECT BILL