If you have irritated, swollen, or red eyelids, you may be suffering from a common eye disorder related to dry eye disease called Blepharitis. Although Blepharitis is a chronic condition, many treatments are available to help you manage the symptoms and side effects.
Even though Blepharitis can be treated and managed with the help of your eye doctor, some people don't seek treatment at all.
Unfortunately, Blepharitis can lead to serious health risks if left untreated. Keep reading to learn more about treating Blepharitis and the consequences of not having it treated.
What is Blepharitis?
Blepharitis is a common eye disorder that only affects the eyelids. If you have Blepharitis, one or both of your eyelids may become red, swollen or irritated.
Although the disorder is typically non-contagious and mild, some cases can be contagious and can result in severe health risks such as blindness. In addition to this, if you have blepharitis, it is possible to develop a secondary infection which can lead to other eye and health issues.
For these reasons, it is crucial that you get your eyes examined by your optometrist to catch Blepharitis before it progresses into something more serious.
The Two Types of Blepharitis
There are two types of Blepharitis. These are:
Posterior blepharitis: This is the more common type of blepharitis. It affects the meibomian glands, which produce the oily part of the tears.
Anterior blepharitis: This type of blepharitis affects the outside of your eye, where the eyelashes attach to the eyelid.
Blepharitis Symptoms
Blepharitis can have a range of different symptoms depending on the underlying cause related to your condition.
These symptoms may include:
Itchy, red, burning or swollen eyelids
Eyelids that stick together after sleeping
Yellow coloured eye discharge
A gritty feeling in your eye
Excessive blinking
Excessive tearing
Flakes of skin around eyes and eyelids.
Greasy eyelids
What Causes Blepharitis?
The causes of blepharitis are largely unknown. Unfortunately, there is not one single cause, so your eye doctor may have a hard time diagnosing the cause of your blepharitis.
What Causes Posterior Blepharitis?
Some common causes that have been linked to posterior blepharitis include:
Skin conditions, such as rosacea or dandruff
What Causes Anterior Blepharitis?
Some common causes that have been linked to anterior blepharitis include:
Skin conditions, such as rosacea or dandruff
Allergies
How is Blepharitis Treated?
Your blepharitis treatment will depend on the following:
Your medical history and overall health
The type of blepharitis you have
The suspected cause of your blepharitis
Your eye doctor will examine your eyelids and run tests to determine what course of action would be best for you. Once the cause of your blepharitis has been determined, your optometrist may suggest any of the following treatments:
Antibiotics: Your eye doctor may prescribe you an antibiotic ointment, prescription antibiotic eye drops, or oral antibiotics.
Anti-Inflammatories: Inflammation can be one of the symptoms associated with blepharitis. To combat this, your eye doctor may prescribe anti-inflammatories to reduce inflammation. These are also useful for treating underlying conditions or secondary infections.
Blephex: Blephex is a treatment that uses a small spinning sponge to clean your eyelids, which helps remove debris and prevent buildup.
Root cause treatment: Sometimes, the easiest way to treat blepharitis is by treating the underlying cause, whatever it may be.
LipiFlow: LipiFlow uses gentle heat and pressure to clean out any blockages from the meibomian glands.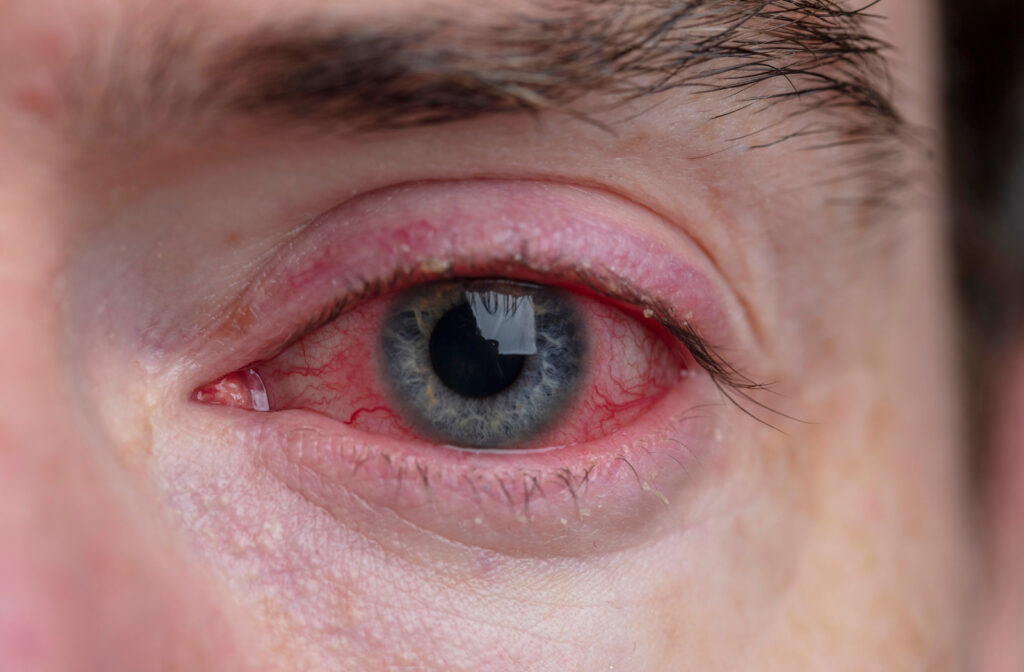 What Happens if Blepharitis Is Left Untreated?
If left untreated, blepharitis can lead to other severe eye conditions such as:
What Happens if Blepharitis Is Left Untreated?
If you suffer from blepharitis, there are many ways to manage and treat your symptoms with the help of your eye doctor.
Contact us today if you have any questions or concerns about blepharitis!