Dry eyes can come with a range of uncomfortable daily symptoms, but that doesn't have to be your reality. Getting treatment is essential for feeling relief and avoiding dry eye complications, but with so many options, how do you know whether intense pulsed light (IPL) therapy is right for you?
Making a choice to get relief with dry eye treatments starts with taking the time to learn your options. IPL is an innovative treatment that uses light energy to target the skin around your eyes and can provide dry eye relief by reducing inflammation and supporting the function of the glands in your eyelids.
IPL is one of many possible treatments that can help you find dry eye relief, and it can also provide other benefits for your skin. Learning about how it works can help you decide whether you're ready to experience the benefits of IPL and other dry eye treatments for yourself.
How Does IPL Therapy Work?
IPL was originally founded as an aesthetic treatment, however, through years of studies has now been found to also be used to treat dry eyes! It works by using focused light to target skin cells that hold colour (chromophores). IPL can help reduce inflammation, improve the function of glands in your eyes, and reduce the appearance of acne, skin blemishes, discolouration, and other skin conditions.
Because IPL targets skin cells that hold colour, it can work differently for people with different complexions, so it's best to speak with a medical professional before making an appointment for IPL treatment.
What Should You Expect from IPL?
When you visit us for dry eye therapy, we start with a consultation. Because dry eye disease can have many causes and there are many treatments available, it's important to take a close look at your eyes and discuss your options for treatment.
Based on your consultation, we may recommend IPL or another form of treatment, such as LipiFlow, BlephEx, or a form of at-home dry eye treatment.
During an appointment for IPL treatment, we begin by applying a cooling gel and specially designed shields to protect your eyes. We then hold the IPL device to your skin to administer flashes of light, which may feel warm.
Your initial IPL treatment for dry eye is typically 4-6 sessions. Once completed, your doctor will recommend what maintenance plan is right for you but typically is every 3–9 months thereafter.
Results can be quick, but many of our patients don't feel the full benefits until receiving a series of treatments. After a treatment, you may experience blurry vision as your eyes produce more oil. Temporary blurry vision after IPL treatments is natural, expected, and a great sign that the treatment is working!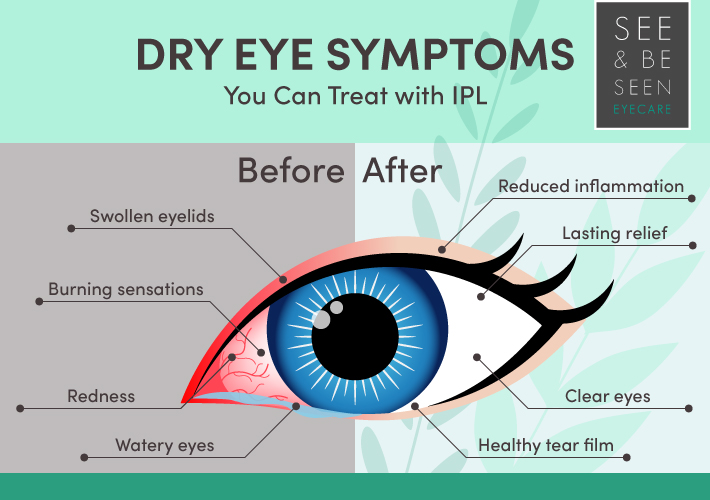 How Does IPL Help Dry Eyes?
One common cause of dry eyes is meibomian gland dysfunction (MGD), a condition that develops when specific glands in your eye no longer produce enough oil to keep your eyes lubricated. IPL works to treat MGD by reducing inflammation around your eyes, so your glands can continue to produce the oil necessary for keeping your eyes lubricated without blockages.
The light energy delivered during IPL treatments can also treat skin conditions that contribute to MGD, like ocular rosacea and spider veins, by eliminating damaged blood vessels and reducing inflammation.
IPL can also help warm and liquefy the oils your eyes produce to help them spread evenly and reduce blockages that can contribute to dry eye symptoms.
Other Dry Eye Treatments
While IPL can provide lasting relief from dry eyes by targeting the underlying causes, it's not your only option for treating dry eye disease.
LipiFlow involves gently applying heat and pressure to your eyelids to help your eyes naturally produce healthy tears.
BlephEx can help treat blepharitis by cleaning and exfoliating your eyelids and lash line with a handheld sponge.
Radiofrequency (RF) therapy uses gentle electrical currents to treat dry eyes by generating heat that can help liquefy oil and reduce inflammation.
There are also other at-home dry eye treatments, such as artificial tears, sprays, eye drops, and other products that can help you manage dry eye symptoms between visits for in-office treatments.
When you visit us, we can help you determine which forms of dry eye treatment are right for you based on your eye health, lifestyle, and unique needs.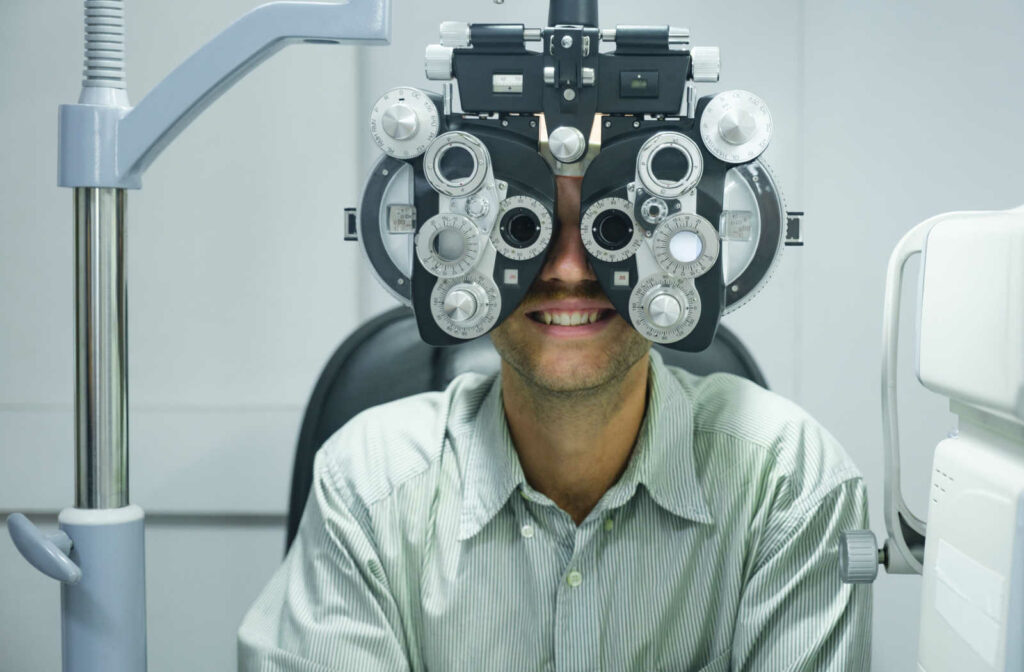 What Are the Aesthetic Benefits of IPL?
By targeting your skin cells with light energy, IPL can stimulate collagen production to help reduce the appearance of fine lines, wrinkles, and other signs of aging. IPL therapy can also help address several other skin blemishes and conditions, including:
Acne
Stretch marks
Broken blood vessels
Brown spots & dark spots
Redness from rosacea
The effects of IPL can vary from person to person, so it's best to ask about the potential aesthetic benefits based on your health during your consultation for IPL.
Can Anyone Get IPL Therapy?
IPL may not be recommended for dry eye therapy if you're pregnant, sensitive to light, have certain skin conditions, or take certain medications. However, other dry eye treatments may be more suitable for you and still offer long-term relief.
A thorough consultation is essential for finding a personalized dry eye treatment plan based on your unique needs.
Say Goodbye to Dry Eyes
At See & Be Seen Eyecare, we're focused on providing excellent care to meet your dry eye needs. From thorough eye exams to innovative treatments using modern technology, we're committed to helping you feel fantastic about your eye care experience—and your eyes.
Schedule an appointment at our Midtown or Liberty Village locations to speak with us about IPL, dry eyes, and your options for treatment.