Dry eye can make everyday tasks feel impossible. Reading, working, and even driving can become strenuous on your eyes and comfort.
Fortunately, there are many different treatments available to help manage dry eye symptoms. IPL (intense pulsed light therapy) and LipiFlow are just 2 of the treatments we offer at See & Be Seen Eyecare. Some of the latest treatments for dry eye are offered at our clinic.
But how are these treatments different and which treatment is right for your eyes? We're here to help you figure it out.
What Is Dry Eye?
Dry eye is a chronic condition where there are not enough tears to sufficiently lubricate and nourish the eye. The glands involved in tear production either fail to produce enough tears or produce tears of poor quality.
The tear film has three layers; aqueous fluid, mucus, and fatty oils. The aqueous fluid (water) layer hydrates the eyes. The mucus layer spreads the tears evenly across the eye's surface. The oil layer prevents the water layer from evaporating too quickly.
Meibomian gland dysfunction (MGD) affects 85% of all dry eye patients. MGD occurs when the meibomian glands become clogged, reducing the amount of oil in your tears. MGD can lead to dry eye and treatments like IPL and LipiFlow are designed to treat MGD.
Signs and symptoms, which usually affect both eyes, may include:
Dryness
Burning and irritation
Itchiness
Blurred vision
Redness
Sensitivity to light
Sandy/gritty feeling
Foreign body sensation
Tiredness
Sudden excess of tears
Stringy discharge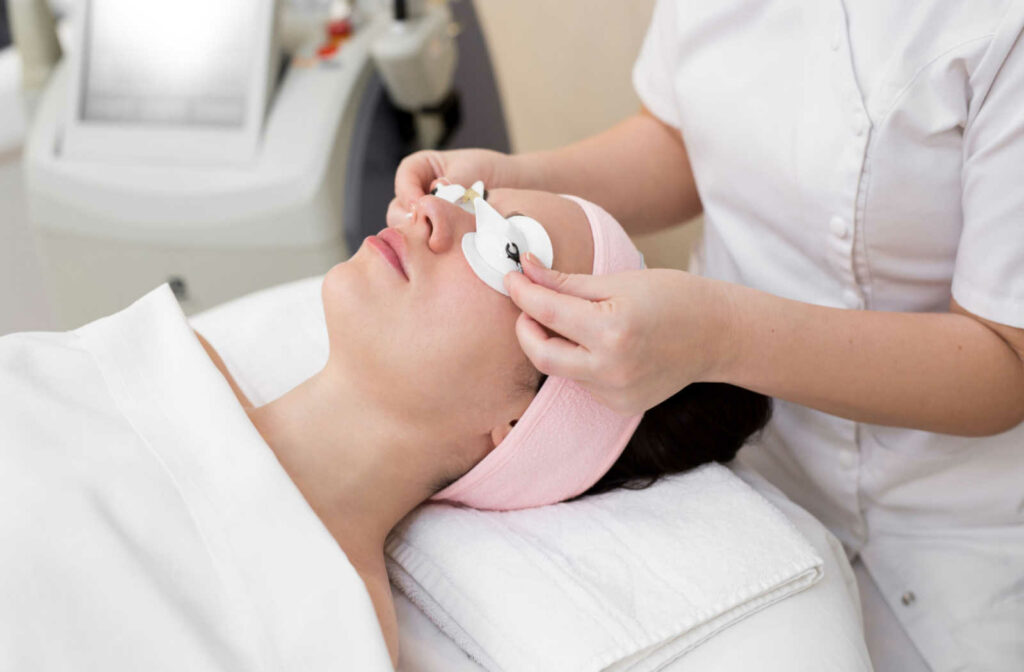 What Is IPL?
Intense pulsed light therapy (IPL) is an in-office treatment for dry eye. Using gentle pulses of light (wavelengths), your optometrist can reduce inflammation around the eyes and stimulate oil production of the meibomian glands.
During the procedure, the heat from the light warms and liquefies the oil your body uses to create tear film. IPL therapy can help this oil to move more freely and reduce blockages that cause dry eye symptoms.
Studies have shown that IPL can improve tear breakup time in 87% of patients. IPL is a safe, quick procedure that can be used on any skin type.
Pros
Long-lasting results
Patients rarely report discomfort
Ocular + aesthetic benefits
Cons
Requires up to 4 treatments
Not suitable for all skin types
What Is LipiFlow?
LipiFlow is a dry eye treatment designed to target meibomian gland dysfunction. Also called thermal pulsation, LipiFlow works by using heat and massage to warm and express the meibomian glands to stimulate oil production.
LipiFlow uses 2 main components:
A small, contact lens-like eye cover to warm the eyelids
A shield component that sits over the eyes to express the glands
With this treatment, you'll need a mild anesthetic (medicated eye drops) to help you feel more comfortable. The treatment is safe and takes about 12 minutes.
Pros
Automatic system
Long-lasting results
Only need 1 treatment/year
Safe for all skin types
Cons
Only suitable for specific patients
Repeat treatments approximately 1/year
IPL vs. LipiFlow: Which is Right for Me?
Both IPL and LipiFlow have their merits. The right treatment for you depends on a number of factors, such as your symptoms and medical history. Your optometrist can consult on which is best for your eyes. IPL is generally more suitable for inflammatory dry eye, whereas, LipiFlow is better suited for obstructive meibomian gland dysfunction.
Dry eye disease can cause many irritating symptoms, but your optometrist can help you find relief. Whether treatment happens with IPL or another method, you don't need to live with dry eye disease.
Next Steps
At See & Be Seen Eyecare, we offer IPL, LipiFlow, Radio Frequency and other dry eye treatments to give you a variety of options when it comes to your vision and ocular comfort.
You can view our home remedies for dry eye here, as well! Book a consultation with us today and find dry eye relief!