At See & Be Seen Eyecare, we're all about helping our patients achieve the clearest, most comfortable vision possible. However, one of the largest obstacles in our way is the well-known condition dry eye.
Researchers suggest about 6 million Canadians struggle with the issue, but it's important to understand that not all dry eye cases are the same.
Some may experience momentary dry eye symptoms if they focus too long on a computer screen or spend a few hours in a dusty or dirty environment, while others may struggle with persistent symptoms no matter what they're doing or where they are. This issue, known as chronic dry eye, often requires the help of our team to address.
Today, we will look at what chronic dry eye is, how it can develop, and a few of the strategies we can provide to alleviate your discomfort.
If you struggle with dry eye, we're ready to help provide the relief you need. Let us support your eye comfort and book your appointment today.
What's The Difference Between Chronic & Temporary Dry Eye?
According to the Public Health Agency of Canada, a "chronic" illness or disease is a persistent health issue that can slow in progression and even be treated, but it cannot be cured. So, how does that definition apply to dry eye?
Chronic dry eye is an ongoing eye condition caused by underlying health issues you can't cure. For example, if you have Sjogren's syndrome, rheumatoid arthritis, or lupus, you may struggle with chronic dry eye symptoms. Your risk of developing chronic dry eye can also increase based on your age and gender (women tend to have a higher risk of developing chronic dry eye).
If you have chronic dry eye, you may need to speak to an optometrist to find meaningful relief.
On the other hand, temporary dry eye does not cause the same persistent symptoms. Digital eye strain and dusty environments are common causes of temporary dry eye symptoms, but you'll likely be able to manage these symptoms using eye drops, adjusting your environment, or simply giving your eyes a break.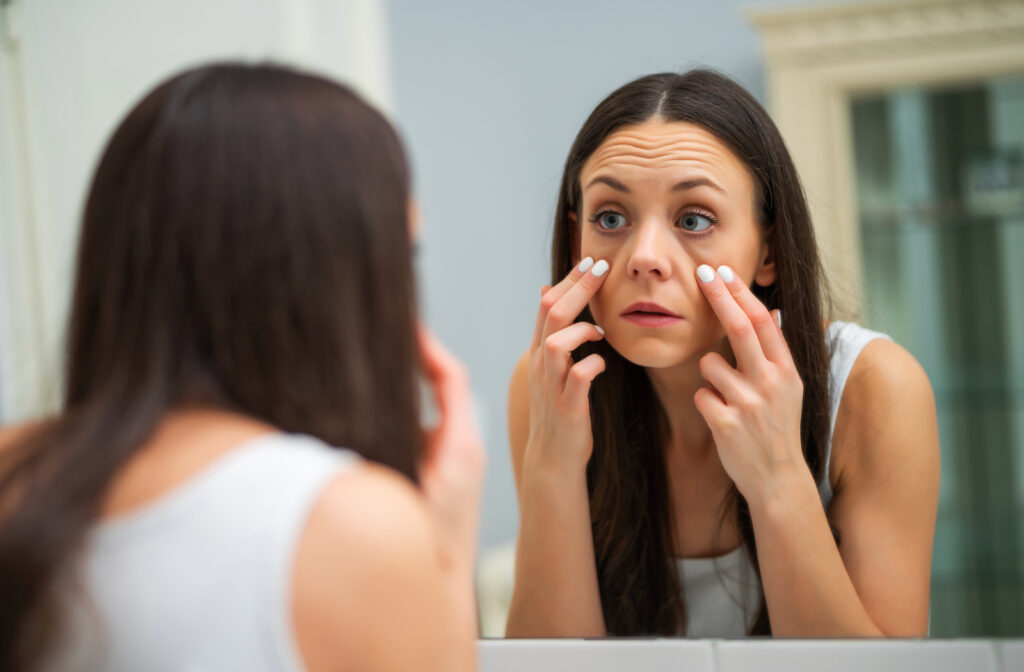 How Does Dry Eye Develop?
Now that we understand the difference between chronic and temporary dry eye, it's time to dive into the various causes of chronic dry eye.
The type of chronic dry eye you may experience ultimately depends on your underlying health condition and how it affects the quality of your tear film (the thin layer of tears that covers and comforts your eyes).
We can separate the different types of dry eye into 2 groups: evaporative dry eye and aqueous tear deficiency.
Evaporative Dry Eye
Evaporative dry eye, also known as EDE, is a version of dry eye that occurs when your tear film doesn't get enough oils from your meibomian glands to keep your tears from evaporating too quickly. EDE is the most common version of dry eye, and it's often associated with eye conditions like meibomian gland dysfunction and blepharitis.
Underlying health conditions that may increase your risk for EDE include:
Skin conditions like rosacea, dermatitis, psoriasis
Digestive issues such as IBS
Allergies
Vitamin A deficiency
Parkinson's disease
Aqueous Tear Deficiency
Aqueous tear deficiency is a version of dry eye that develops when your tears don't get enough water content from your lacrimal glands to keep your eyes hydrated and comfortable.
Aqueous tear deficiency is less common than EDE, but it can still cause considerable discomfort. Your risk of developing this version of dry eye increases with:
Aging
Sjogren's syndrome
Parkinson's disease
Lupus
Hormones
Meibomian Gland Dysfunction
Determining whether you have evaporative dry eye or aqueous tear deficiency is a great first step in treating your symptoms and comforting your eyes.
However, before we look at some of the treatments we offer, we should take a moment to look at one of the most significant causes of chronic dry eye: meibomian gland dysfunction.
All along the edges of your eyelids are many tiny glands called meibomian glands. These glands are essential to your eye comfort because they provide your tears' with the necessary oils to keep them from evaporating.
Meibomian gland dysfunction, or MGD, occurs when these glands become blocked or damaged, preventing them from producing oils for your tear film. Several health conditions can lead to MGD and chronic dry eye symptoms, like:
We Tailor Your Treatment to Your Needs
Before recommending any treatments, we need to perform a comprehensive eye exam to get a detailed look at your eyes and the potential issues causing your symptoms.
If you struggle with chronic dry eye, you may need to visit us for routine treatments so we can help maintain your eye comfort. How often you may need treatment depends on how serious your dry eye symptoms are, but some people can enjoy their eye comfort for months before another treatment session.
We may combine a few different strategies to maximize your eye comfort. Some of the most common treatments we recommend include:
We also carry a comprehensive selection of dry eye products we can recommend when you visit us for an appointment. Please browse our products by visiting our online store, or contact us today to book your appointment!