Patio season is finally here! We can't wait to drink out of absurdly large buckets or fish bowls while soaking up the sun. But don't forget that the sun also has a dark side. Too much exposure to UV rays can have serious and damaging effects on the eye.
WHAT HAPPENS WITH TOO MUCH UV?
EYE GROWTHS

Pingueculas are common growths on the conjunctiva (white part of your eye) caused by extended UV exposure. They are initially not visible to the naked eye but can enlarge over time to cause dryness and discomfort. Pterygia are more aggressive growths that can extend from your conjunctiva into your cornea. Pterygia can grow into your pupil and severely affect your line of sight.

EYE CANCER

You can get freckles in your eye, just like on your skin. There are freckles that you can see on the front surface of your eye and freckles that you can't see on your retina. Just as it's important to wear sunscreen for your skin when you go outside, it's important to wear sunglasses to reduce the risk of these freckles from transforming.

CATARACTS

The eye is like a camera. And your camera lens needs to be clear to allow light through for you to see. Prolonged UV exposure can quicken the darkening of this lens and impair your ability to see.

MACULAR DEGENERATION

The majority of your vision comes from your macula. This is a densely packed area of cells in your retina that make up your center of vision. Too much UV can increase the production of free radicals. The macula is especially sensitive to damage caused by free radicals, which can then lead to macular degeneration and therefore vision loss.

SUNBURNED EYES

Just like your skin, you can get sunburns on and inside your eye. Intense sun exposure can cause photokeratitis or blistering of the cornea which is painful and vision threatening. Staring directly at the sun can cause solar retinopathy or blistering of the layers at the back of your eye. So make sure your eyes are protected while you're tanning on the beach!
HOW TO PROTECT YOUR EYES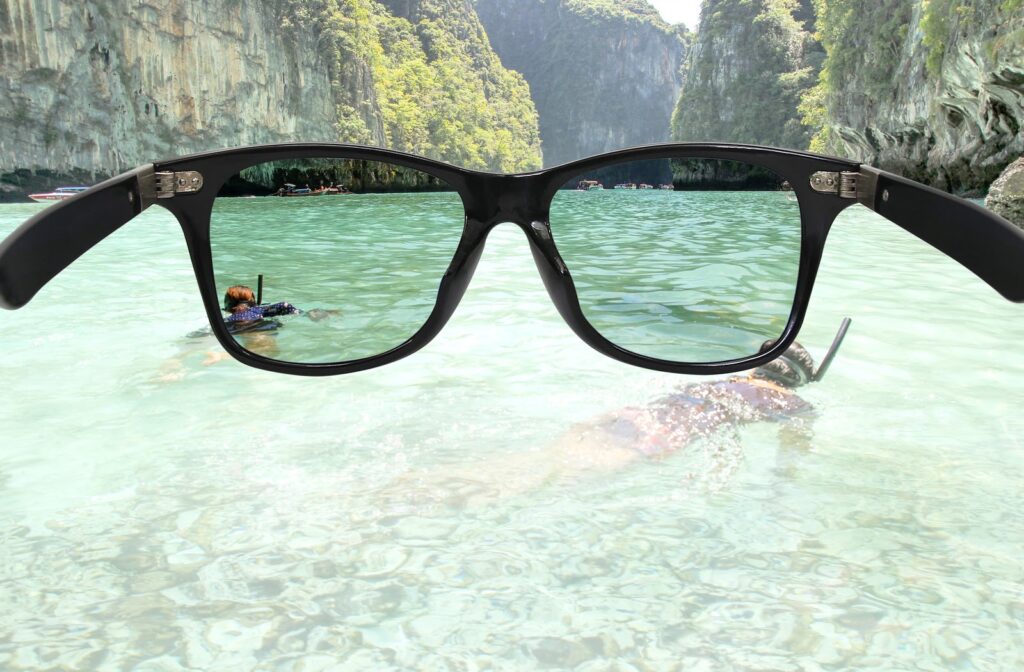 POLARIZED SUNGLASSES

Ever get blinded by the glare off the lake? How about the hot asphalt while you're driving? Polarized sunglasses are built to filter out horizontal light rays that bounce off the water or your car hood.
This special technology also gives you the added bonus of the trees and greenery on your hikes looking more bold and crisp than common tinted sunglasses.
TINTED SUNGLASES

You can change the way you see the world with different colours and intensities of tints. Remember that all sunglasses can be made with your prescription so you can easily switch between your regular glasses, whether you're driving to work or out on a quick coffee run!

TRANSITION CONTACT LENSES

Ever rip your glasses off so you can be more aerodynamic playing football? We still got your covered! Transition contact lenses give you vision correction, while still protecting part of your eyes from the sun.

TRANSITION GLASSES

For a quick change from inside to outside, you can find glasses that change from light to dark.

CLEAR UV GLASSES

Even your regular daily glasses can have UV400 protection without any compromise to clarity. So even if you forget to bring your sunglasses, you can rest easy knowing your eyes are still protected. Ask us about which lenses can effectively give you clear sunglasses!